Beer totes for my two brothers in law
I decided to take on the challenge of making a couple of our Christmas presents this year. Since both of my brothers-in-law love beer, and since I'm not allowed to drink most beer anymore (doctor's orders), I thought it would be cool to build something for them that I've have pretty much no use for so that I would not be tempted to keep for myself.. two beer totes coming up!
YouTube and Pinterest are loaded with videos of people making beer totes and there are lots of downloadable plans for them but I didn't want to go exactly for someone else's plan, mostly because I'm rubbish at following them. Instead after some idea pillaging, I based a design around the size of the bottles of local beer that I knew I'd be getting for the lads and significant inspiration from Matt of Badger Workshop, whose design has the classic shape I was after. You can watch his video here.
I broke down a few pallets some months back, that have been sitting in the barn waiting for the right project to come along. So I started off with a stack of lovely, dirty, concrete-splattered boards.
After checking for embedded nails, I cleaned and rough-planed all of them leaving me with this bunch of usable pallet wood and 12 bottles of super-tasty Irish beer.
Then I glued up 6 pairs to make wider boards for the two end panels and the base of each tote.
I marked out the pattern for one of the end panels, cut it out with the bandsaw and sanded it smooth. I'm still new to using a bandsaw so I had a couple of big errors to sand out but none of them crossed the lines. After sanding it smooth, I traced around it onto the three other end panel blanks. I used an M4 washer to give a small and uniform amount of clearance. I then cut around the line on each of them using the bandsaw.
I clamped each remaining end panel to the finished panel one at a time and using my trim router I was able to use the finished one as a template to bear against.
Then clamped all four together and sanded them smooth to a matching contour before finishing their general shape with 15mm hole through the narrow end for the handle to pass through. I cut two small and two larger side panels for each tote and internal cross members to length. I messed up the length of a couple and had to prepare replacements but thankfully I'd kept a several partially prepared ones as spares.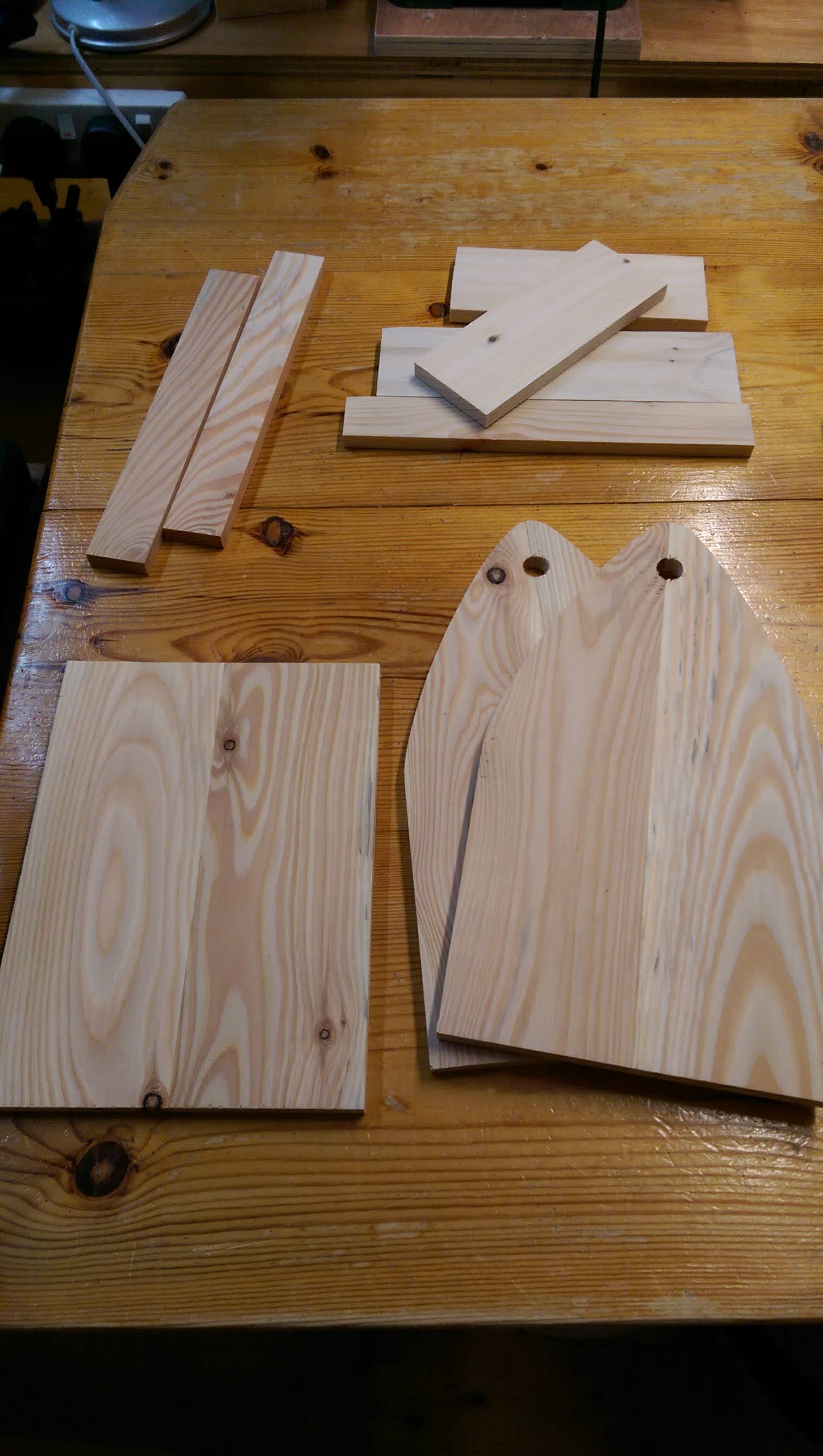 A side panel had a really loose knot so I flooded it with clear epoxy, which would have looked neat on the finished tote had I not messed up the glue/dust mix of a minor fill beside it, which ruined the board. I scrapped it and prepared another from scratch.
I glued up the outer casings and used a mixture of brad nails and dowels to complete the joints.
I prepared the lap joints for the cross members that stop the bottles from hitting each other. There's a single panel down the centre with two cross members providing the classic 6 pack shape. I managed to screw up one of these too by forgetting that I had measured to the edge of the cross-members and then marking out as if I'd measured on centres. This meant another trip to the spares pile to make a replacement. The biggest compromise in the build is in this section because the draft beer bottles from different brewers come in such different sizes so some are a little tight and others a bit too loose for my liking - that said, the lads can reuse these with pretty much any craft brew and they'll be safe to carry around to whatever BBQ they're attending!
For the handles I used some 15mm copper pipe with wooden dowels inserted internally for additional strength. I made some end caps from some of my earlier offcuts and attached these with two part epoxy. I gave the copper a brushed look with some 400 grit wet applied sandpaper. I ordered a bottle opener to mount on the end of each tote but they did not arrive in time for the big day I guess we can fit them later whenever they arrive.
I finished each with a couple of coats of Danish Oil for protection, which should season to a gentle amber over time.
Ok, so this was a stereotypical hipster build but I'll take that on my beardy chin because I love this kind of stuff! .. I hope the guys find them a bit of fun and maybe even useful.