Writing software.. the quest continues..
In previous musings I've mulled over the pros and cons of a few different software packages that aim to make the life of a writer a little easier. It's a very personal thing and my preferences brought me to yWriter and Writer's Cafe for various reasons - including cross compatibility of varying degrees (or StoryMill would have been in with a shot).
Eventually yWriter did fall by the wayside despite having a MUCH cleaner interface than Writer's Cafe. The reason being Writer's Cafe's better management of the peripheral data involved with a writing project and being available for Windows, Mac and Linux. Unlike a lot of people, I really do need something that can be run across the OS ballpark, I use all three variants at different times.
The biggest annoyances with Writer's Cafe are the really bad general editor and the fact that you can minimise the Storylines view into oblivion, making it really difficult to get back. Even after hitting F8 and going into the fullscreen card editor it regularly can't scroll properly, requiring the user to close and re-open the view and isn't really fullscreen, it just pretends to be.
Bear in mind that these gripes are on top of all the great reasons for choosing Writer's Cafe, its features for managing your characters, locations and plot lines are excellent - in fact they are really excellent for the tiny cost of this package.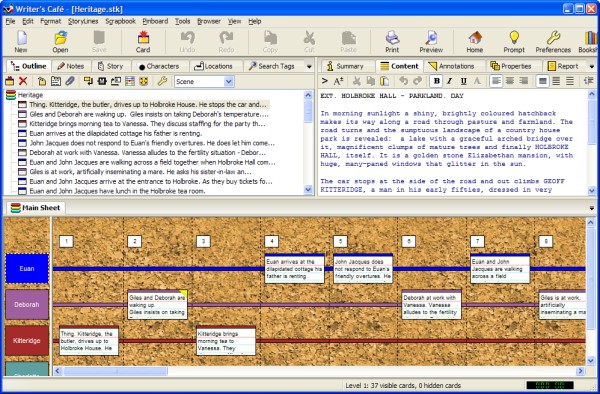 But that editor.. oh dear. So then this week, thanks to a Tweet I found myself looking at the websites of WriteRoom for Mac and Darkroom, its PC counterpart. No Linux port as yet unfortunately.
This utterly fantastic piece of software has just about solved my Writer's Cafe issues. I can now use WriteRoom/Darkroom as my primary editor and then paste the results into Writer's Cafe for tweakage and organisation.
It's simple:
Creative flow: WriteRoom/Darkroom
Organisation: Writer's Cafe
Now, were the nice folks behind Writer's Cafe to embrace an editor such as WriteRoom/Darkroom - I think they would truly be on to a winner.